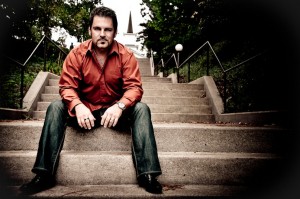 Full Name: Charles Rodney Propes
Birthdate: July 6
Favorite Food: Japanese and Steak
Hobbies: Golf, Guitar, Apple Computers
Favorite Singers: Michael McDonald, Michael English, Don Henley.
Favorite Song: I Surrender All
Most influential figure: My father
In a world of many styles and types of music emerges a vocalist that not only possesses power and stamina but is diverse enough to communicate his message to most age groups. Rod Propes brings these traits to his concerts but his best quality is his willingness to let the Holy Spirit work and let God transform broken and hurting lives. Rod was saved April of 1988 after nearly destroying his life and shares his testimony of his deliverance from drugs. God saw the future and had other plans for this talented young man.
Rod is a veteran vocalist with over 20 years experience and has sung numerous chart songs in the Christian music industry. Among these songs, " The Marriage Supper of the Lamb" reached the top 40 in 1996 and " The Rest of the Story" in 1998. The song " Like You Know Me" hit #22 on the inspirational charts in 1999. Rod was also mentioned in an article in CCM magazine as "unknown artists you should hear". In addition Rod has sang with several nationally known groups and has shared the stage with such artists and speakers as Zoe Girl, Mark Shultz, Jamey Ragle, Clint Brown and Donnie McClurkin.
In 2000 he started his own music evangelism ministry which has been accepted tremendously and seen over 14,000 decisions for Christ. Rod says, "It has been an unbelievable experience these past years to be used in such a mighty way, and to be a servant in the kingdom". With his charisma, desire to serve God and most of all the anointing of the Holy Spirit, you are sure to receive a blessing.